Reparative Rememberings: Corinne de San Jose Reincarnates a Lost Film
By John Alexis B. Balaguer
Since the 20th century, a number of films produced in the Philippines have not survived. Many are lost due to poor conservation, inadequate archive management, and the effects of the tropical climate, exacerbated by systemic historical negligence. Director José Nepomuceno's Dalagang Bukid (Country Maiden) (1919), considered the first Filipino-produced and directed film, is one such example. Surviving notes and fragmented documents about the lost film reveal the story of Angelita, a flower vendor who works outside of a cabaret and was forced to marry a wealthy loan shark, Don Silvestre, by her gambler parents after he arranges for the young woman to win a beauty pageant.
Sound engineer and interdisciplinary artist Corinne de San Jose took the fractured evidence of this lost national history and reconstructed it to contemplate on the past, present, and future in her solo exhibition "Lazy Projectors" at Silverlens, Manila. Using multi-sensory materials such as zoetropes, audio amplifiers, incense, video projections, and cyanotype photographic printing, "Lazy Projectors" filled the gaping holes in the history of Philippine cinema by reimagining archival clues into visual inferences that project possibilities not only of what Dalagang Bukid was like, but also of the richness of Filipino heritage if one would take the resources to excavate, restore, and conserve it.
Hung across the main gallery walls, Every Girl I Know (2022) reproduces the image of a local rural damsel, harkening back to the film's main protagonist, in a set of 100 cyanotypes. The reprographic repetition of this archetypal Filipina—alluding to Filipino painter Fernando Amorsolo's replicative image of an idealized, untouched provincial woman—produces a variety of textural reactions as a result of their printing process, like film scratches on a surface. Each print presents a ghostly variation of an anonymous female figure from the past, challenging the idyllic solidity of the maiden archetype and replicating the haziness of remembering this ideal.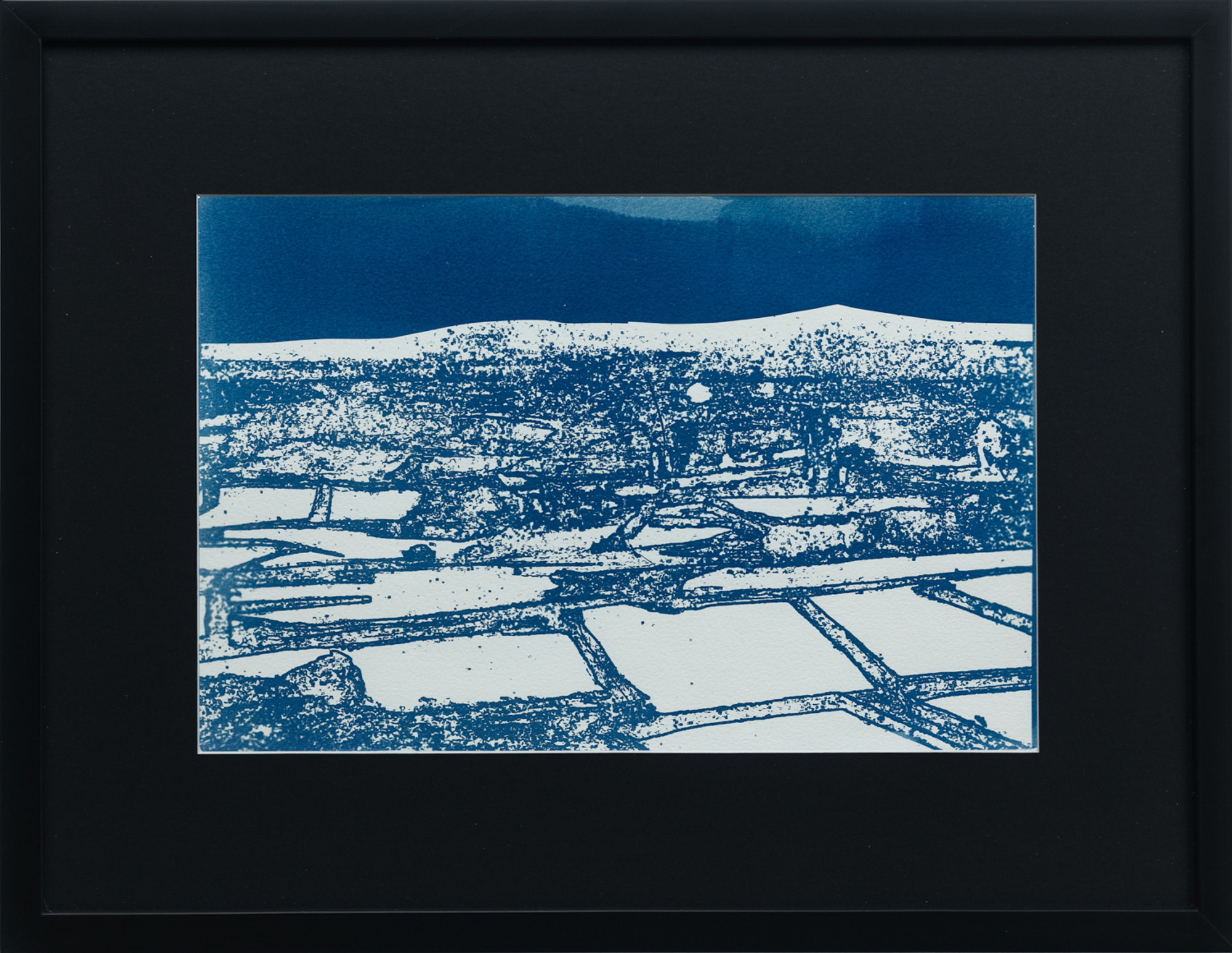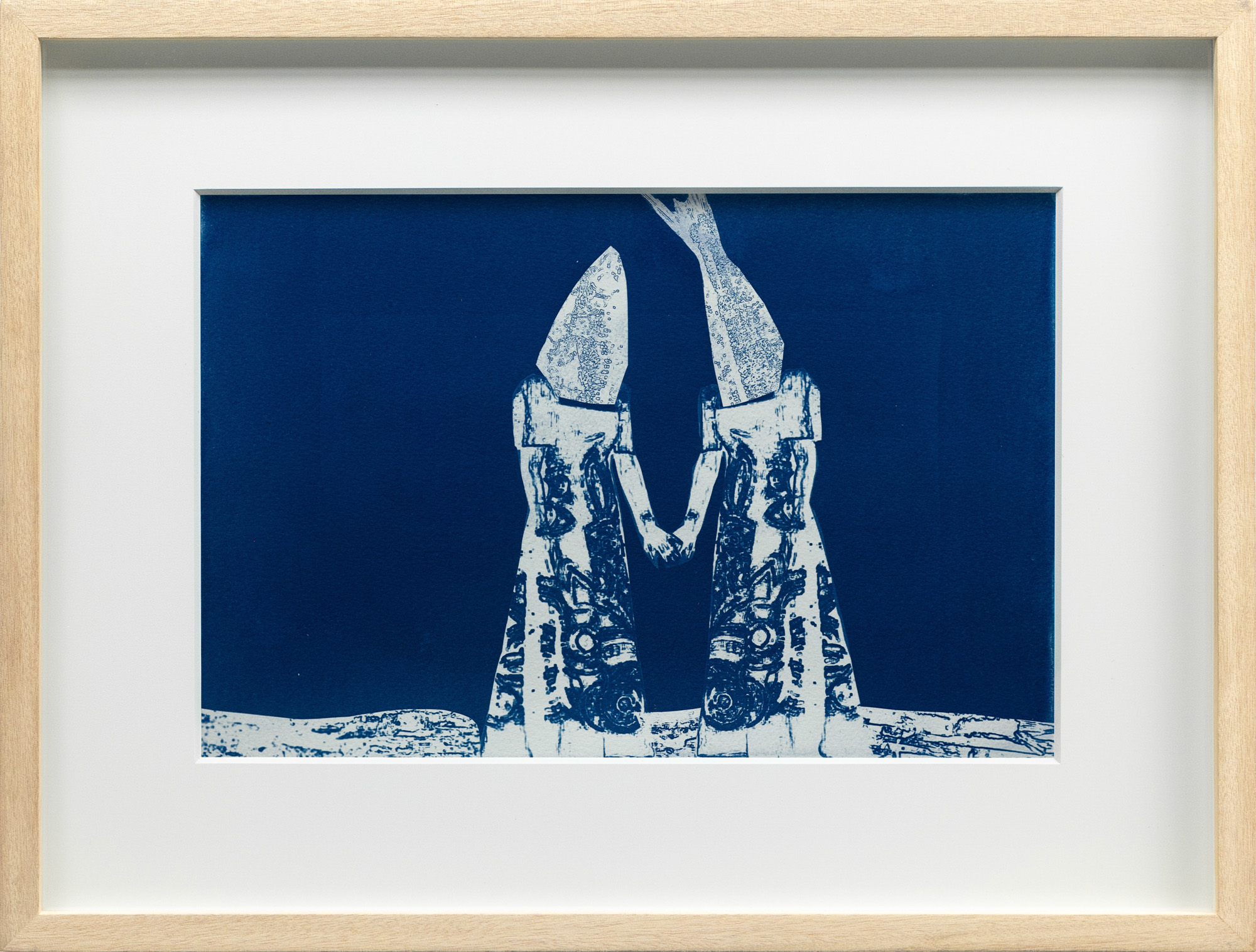 Other cyanotypes installed in different sections of the gallery emphasized the concept of image reconstruction. In EXT. Bukid Option 1 and 2, INT. Cabaret Option 1 and 2, and INT. House Option 1 and 2 (all 2022), outlines of the interiors of cabarets and private homes are juxtaposed with exterior landscapes of farmlands. These three pairs of internal and external venues propose possible film settings, while highlighting the sites of vulnerabilities where private and unspoiled worlds become exposed.
De San Jose's imaginative repair, however, takes a surrealistic turn in Madame Bukid 1-4 (Madame Countryside) and Dalawang Madame Bukid (Two Madame Countrysides) (both 2022), taking composite images of a lady in formal Filipiniana attire and pasting them together with cutouts of fish heads and tails. This mutation references the dual definition of dalagang bukid in vernacular language: a country maiden—the protagonist, the idealized feminine—and the local fusilier fish, whose red underside is reminiscent of the dress worn by women in the countryside. Here, the dalagang bukid becomes a chimera, a creature lost in the semiotics of imagination and reality.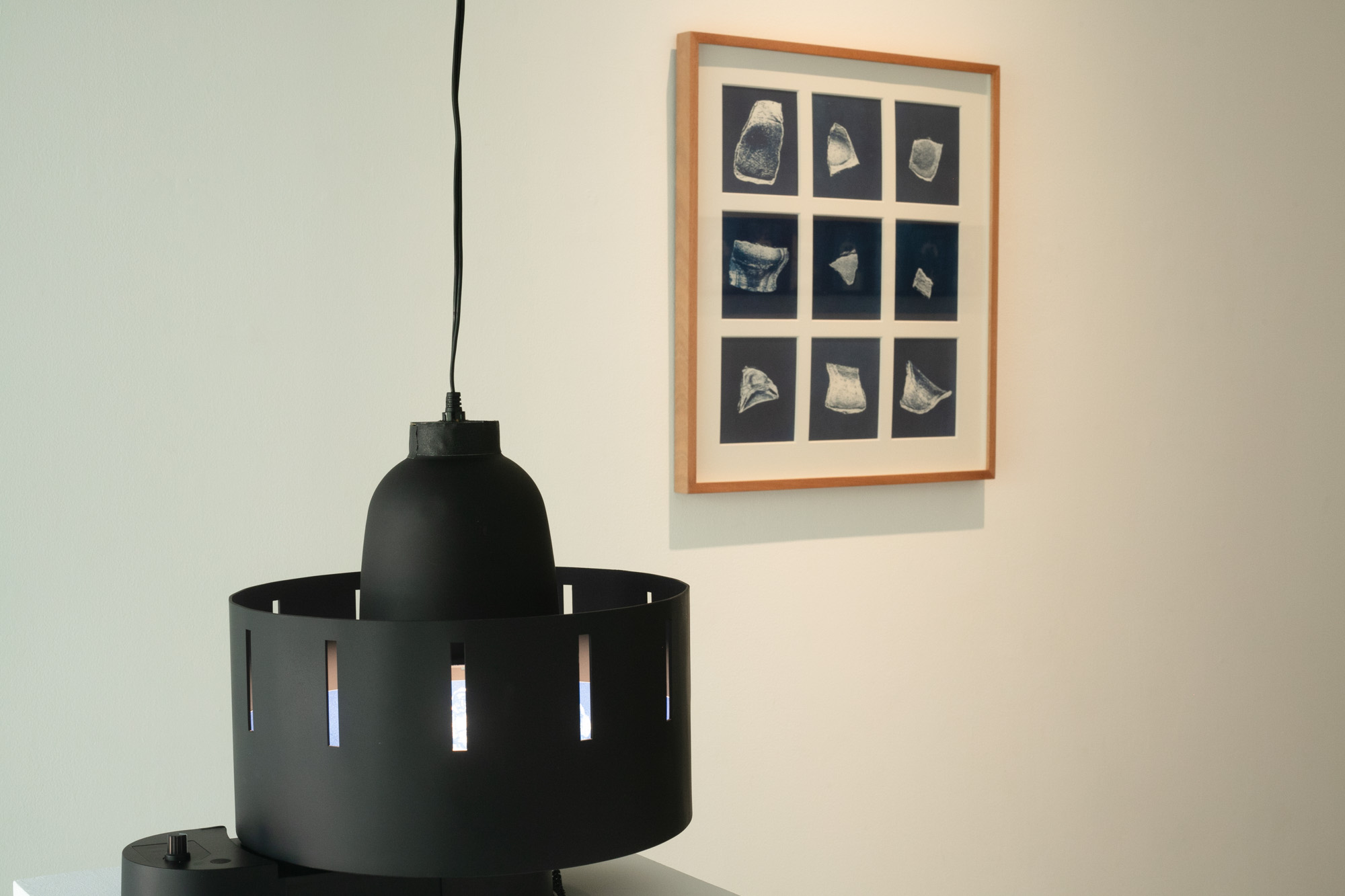 The urgent attempt at restoration is further exemplified by the cyanotype Banga (Jar) (2022), in which broken pieces of pottery are imprinted with heavy detail, recalling the song Nabasag ang Banga (The clay jar broke), which the actress who played Angelita, Atang de la Rama, had to sing live during the silent black-and-white film's theatrical run. Optically, the shards' imprints reinforce the impermanence of memory and the fragility of heritage. More contextually, it represents Angelita's song and de la Rama's voice, whose sound we can only speculate about and render in our imagination.
De San Jose's kinetic and audio-visual works broke the repetition of the cyanotypes. The video We Become Silhouettes (2022) was projected on an acrylic screen placed high on a corner where two walls meet. It featured a rocking hammock against a moving backdrop of palm tree shadows and caricature figures in top hats, colonial creatures infesting foreign lands. While the hammock rocks back and forth, the imagined setting moves forward and backward, blurring the line between beginnings and endings—where does history end and where does it begin? Is one even aware of history's cycles as they are rocked to sleep by its motions?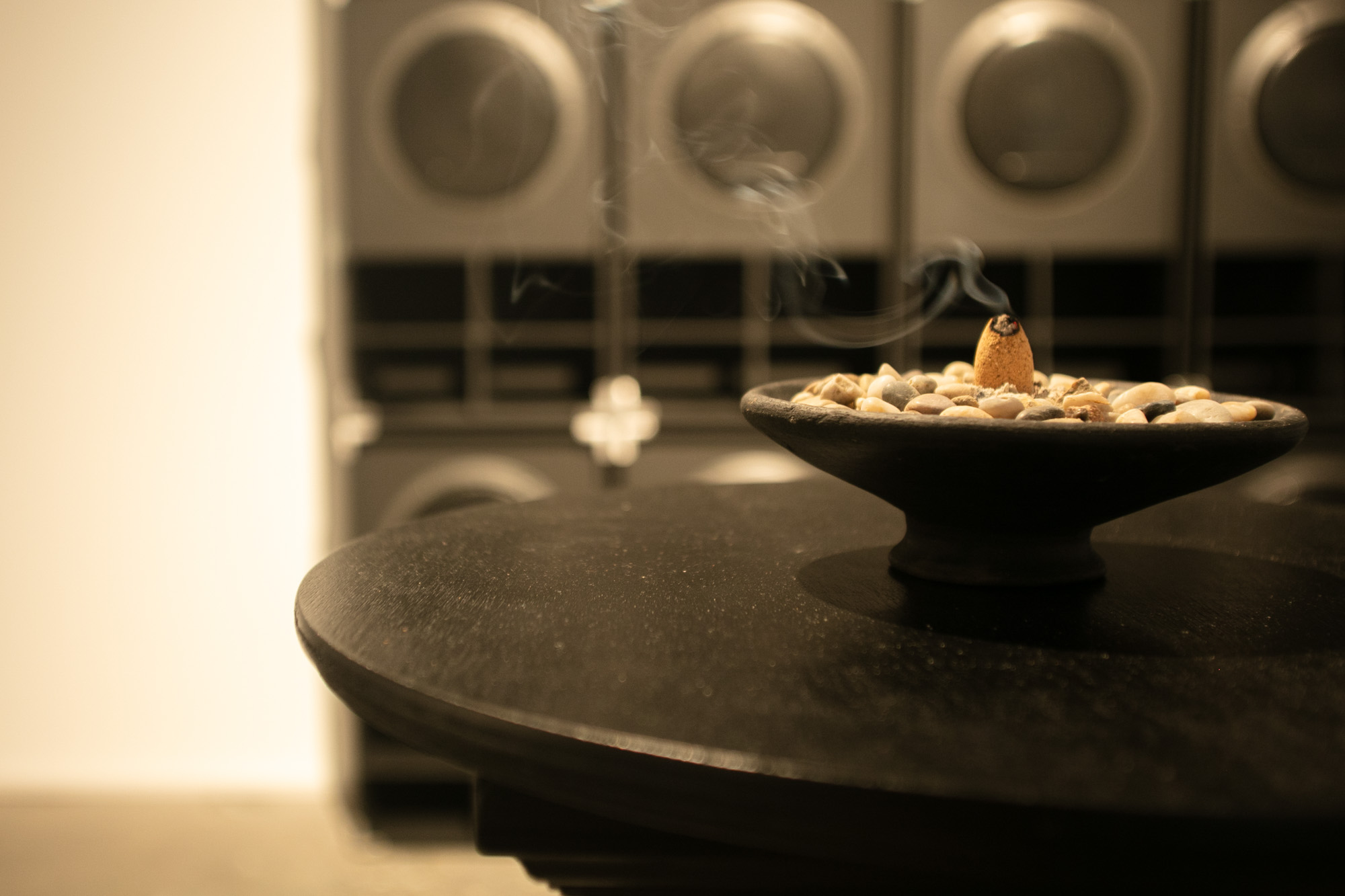 Across this projection is 4-7-8 (2022), a collection of obsolete amplifiers and speaker boxes that continuously sound a rhythmic hum in 40 hertz, an ambient sound theorized to increase working memory. At certain intervals, incense scented with mugwort (locally known as damong maria and ritualistically used for healing and creativity) is ignited as a ceremonial attempt at incarnating history's forgotten ghosts.
Finally, three motorized flipbooks were each marked with one of three words: Fin, The End, and Wakas, expressions of finality in three languages that convey the absolute ending of a film. Cleverly positioned at the gallery's entrance, the exhibition thus ended where it began: recreating the past, present, and future in the samsara of space-time. With the artist's use of reprography, loops and repetition, as well as the revitalization of obsolete technology, recalling of forebears and invocation of the lost, de San Jose made an urgent statement on obsolescence and heritage: just as projections require light to conjure an image, so must one bring light to the projective mechanisms of idleness in the face of destruction. While parts of Dalagang Bukid and the country's cultural history have become lost, de San Jose's multisensorial and multidimensional reconstruction and reimagination have preserved a nation's liminal memories, at least for the time being.
Corinne de San Jose's "Lazy Projectors" was on view at Silverlens, Manila, from January 14 to February 11, 2023.
Subscribe to ArtAsiaPacific's free weekly newsletter with all the latest news, reviews, and perspectives, directly to your inbox each Monday.